In Memoriam: Mark Chorvinsky (1954-2005)
Editor/Publisher and Founder of Strange Magazine.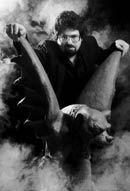 Mark Chorvinsky, the Editor/Publisher of Strange Magazine and the strangemag.com website, passed away on July 16, 2005, several months after his completion of issue 23 of the online Strange Magazine, for which he wrote his final articles — "Glowing Eyes" and "Cowboys & Dragons: Part Three."
He will be missed by his family, friends, and countless people worldwide.
His entire life had been devoted to the strange, anomalous, and unusual. His interests were wide-ranging, and included studies of the historical Merlin, stage magic, fantastic movies, cinematic special effects, and the entire fortean field. He was one of the leading investigators of strange phenomena, and often marshaled the resources of a network of friends and associates all over the world.
He researched and wrote about a broad array of fortean topics, from phantom dogs and the alien qualities of Venus flytraps, to sightings of the grim reaper, the Loch Ness Monster and mysterious blobs.
Mark was known for his in-depth, and sometimes controversial, investigations. Examples include his discovery of the facts behind the continuing enigma of the often-remembered but impossible-to-find Thunderbird Photo, his analyses of the methods of the Cornish wizard "Doc" Shiels, and his investigation of Ray Wallace's connection to Bigfoot, as well as John Chambers' possible fabrication of the monster suit in the case.
Many of Mark's findings branded him a "debunker" to much of the strange phenomena community. Mark was a skeptic in the true sense of the word — open-minded, determined to defend neither a belief system that said a phenomena must be true nor one that said it must be false. He did meticulous and detailed research and followed the evidence he could find wherever it would lead. Unfortunately, this all too often led not to the proof of the existence of some marvelous creature, but instead to telltale evidence of the work of some trickster or other interested party. This was not debunking for the sake of debunking; it was seeing the evidence before him with clear, unprejudiced eyes, even if the obvious conclusions were not always what people wanted to hear. He gained no pleasure in presenting evidence that sometimes undermined people's cherished belief systems, but he felt his job was to get to the bottom of the mysteries he investigated. This he did with dogged determination and thorough professionalism.
His achievements went far beyond the oft-controversial written word. After working as a professional stage magician during his youth, in 1978 he founded the store Dream Wizards which, especially in its early years, was a center for people interested in stage magic and many aspects of the unusual, including film. There, as always, Mark mentored many people. Using the expertise of those he had assembled, he founded Chorvinsky Studios, a special effects house in Kensington, Maryland, which provided effects for the feature film The Passing (1983), as well as Mark's own fantasy short subject Strange Tangents (1983), which was featured at a number of film festivals including Cannes. A planned science fantasy feature, Creatures of Darkness, was in preproduction for a number of years during the 1980s.
A television special that was both broadcast by satellite and sold as a video was produced in the 1990s. Entitled Strange World, it transposed the special quality of Strange Magazine to a new medium, and included features and short news reports.
Mark wrote and published articles on a number of far-reaching subjects in such publications as Strange Magazine, UFO, INFO Journal, and Fate — to name but a few. He was a Contributing Editor of the latter magazine for many years.
His voluminous writings reveal him to have been a true renaissance man in a field that badly needed his passion, devotion and unique approach to studying, analyzing and understanding strange phenomena. There will be no replacing him.
His collaborators and friends here at Strange Magazine will miss him deeply.
From the Editorial Staff of Strange Magazine:
Douglas Chapman
Laurel Chiat
Mark Opsasnick
Douglas Petherbridge
Sherrill Roberts
Gregory Snook