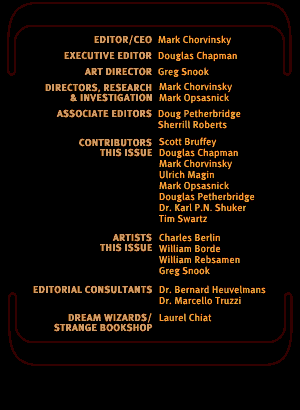 Editorial

Mail

Return to the Haunted Boy:
the Exorcist Case Update
by Mark Chorvinsky
The media almost invariably prints the myth rather than the truth about the alleged case of demonic possession that inspired The Exorcist. Now, find out about the reality in Mark Chorvinsky's pull-no-punches follow-up to Mark Opsasnick's classic investigation. Here are the case's latest developments.

Cowboys & Dragons: Unravelling the Mystery of the Thunderbird Photograph
Part One
by Mark Chorvinsky
Many recall seeing a photograph of a large bird or pterodactyl affixed to the side of a barn, with some cowboy-types standing in front of it. The only problem is that no one can find the photograph. Mark Chorvinsky investigates this perplexing case.

Crybaby Bridge
by Mark Opsasnick
For decades the jagged, one-lane Maryland country road has been the scene of a popular urban legend. Spooky Lottsford Road has played host to a tale of terror balanced precariously between shocking fact and twisted fiction. Investigator Mark Opsasnick reveals the inside story.

An Unnatural History of Indiana
by Tim Swartz
Because of its bucolic setting, few realize how strange the state of Indiana is. Reports of Lake monsters, Bigfoot, anomalous cats, UFOs and other oddities fill the hills and cornfields of the Hoosier state.

Soldiers with a Vision: The Cuxhaven Incident
by Ulrich Magin
There has been speculation that a mysterious underwater invader had visited the harbor in Cuxhaven, Germany, in 1959, and was responsible for ejecting two gigantic fountains. Researcher Ulrich Magin discovers the truth.

Menagerie of Mystery
by Dr. Karl P. N. Shuker
Cryptozoological incongruities of the Internet! Wondrous creatures of the Crypto-Web! And don't miss In the Spotlight: Digging Up the Earthhound!

First Person
Weird personal encounters including a cat-octopus, colored blobs from the sky, a little person sighting, a shiftrobe fireball, and anomalous music. Experience unfiltered strangeness as this popular feature returns to Strange Magazine!

Mixed Bag
by Douglas Chapman
Strange news from around the world.

Reviews

Contributors

Back Issues

Strange Bookshop

strangemag.com homepage


The right to download and store or output the materials found on Strange Magazine Web (TM) a.k.a. Strangemag (TM) website pages is granted for personal use only, and materials may not be reproduced in any form. Any other reproduction in full or in part by any means mechanical or electronic without the express written permission of Strange Magazine (TM) is strictly prohibited. Certain names, logos, and/or phrases on these pages constitute trademarks of Strange Magazine (TM).
Copyrighted material from Strange Magazine and Strangemag Web Site may not be used in television, motion pictures, print or electronic media without the express permission of Strange Magazine.
For television and motion picture rights information e-mail us at: strange1@strangemag.com
Submissions of articles and artwork are encouraged, but the publisher disclaims all responsibility to return unsolicited materials. Return postage must accompany all manuscripts and photographs submitted for editorial approval. Contributor's guidelines are available here. or send legal-size SASE. All letters and e-mail sent to Strange Magazine and/or the editor will be treated as unconditionally assigned for publication, unless otherwise stated, and become the property of the magazine. Opinions expressed by the contributors to this magazine do not necessarily reflect those of the publication.
Copyright ©2000, 1999, 1998, 1997, 1996, Strange Magazine (TM), except that which is copyrighted by the authors. All rights reserved.


No. 21 Fall 2000
P.O. Box 2246
Rockville, MD 20847

Phone: 301.570.7561
fax: 301.570.7562

e-mail: strange1@strangemag.com